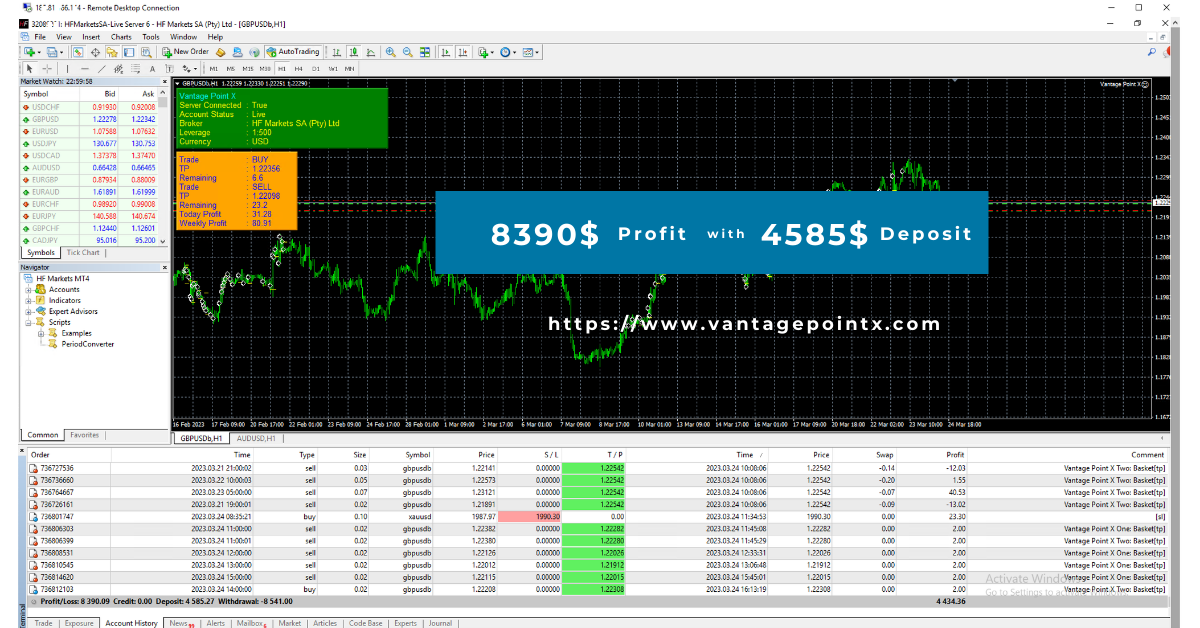 # Remarkable Results with VantageX: How Our AI-Powered Trading Robot Turned a $4500 Deposit into $8000 Profit
Introduction
We're thrilled to showcase one of the many success stories generated by VantageX, our AI-empowered automated trading robot. A recent user experienced phenomenal growth, turning an initial deposit of $4500 into an incredible $8000 profit! This is not an isolated incident; it's a testament to the robustness, accuracy, and reliability of our platform. Here's a closer look at what makes VantageX the future of forex trading.
VantageX (VX): The AI-Driven Trading Revolution
At its core, VantageX leverages state-of-the-art AI technology to create a trading platform that stands out in terms of speed, accuracy, and efficiency. Our system is meticulously designed to analyze market data, identify potential trends, and execute trades at lightning speed—all with exceptional precision.
Why Choose VantageX?
– **Compatible with MT4 and MT5:** The VPX trading system seamlessly integrates with both the MT4 and MT5 trading platforms.
– **Equity Protection Feature:** Your investment is safeguarded through our unique Equity Protection feature, which halts trading if predetermined risk thresholds are reached.
– **User-Friendly Interface:** Navigate our platform with ease, thanks to our intuitive and user-friendly design.
– **Unbeatable Accuracy and Minimal Drawdown:** Our algorithms are engineered for maximum efficiency, ensuring the highest accuracy and minimal drawdowns.
– **Round-the-Clock Customer Support:**Our customer support is available 24/7 to assist you with any queries or issues.
– **Advanced Risk Management Tools:** Utilize our sophisticated risk management options to further safeguard your investment.
– **Regular Software Updates:** We continually improve our system to offer you the latest advancements in automated trading.
Automated Trading for All
One of the key strengths of VantageX is its accessibility. You don't need to be a seasoned trader to use our system. With its fully automated features, VPX does all the heavy lifting for you, allowing you to sit back and witness your investment flourish.
Risks and Future Performance
While trading inherently carries risks and past performance is not an indicator of future results, VantageX's AI technology offers a promising avenue for navigating the complexities of the forex markets. Our users, like the one who turned a $4500 deposit into $8000 profit, have found significant success and returns on their investments.
Conclusion
Ready to elevate your trading game? VantageX is not just another trading tool; it's a comprehensive, AI-powered trading system that offers unmatched advantages in the fast-paced world of forex trading. Discover how you too can achieve extraordinary results with VantageX and redefine what you thought was possible in trading.